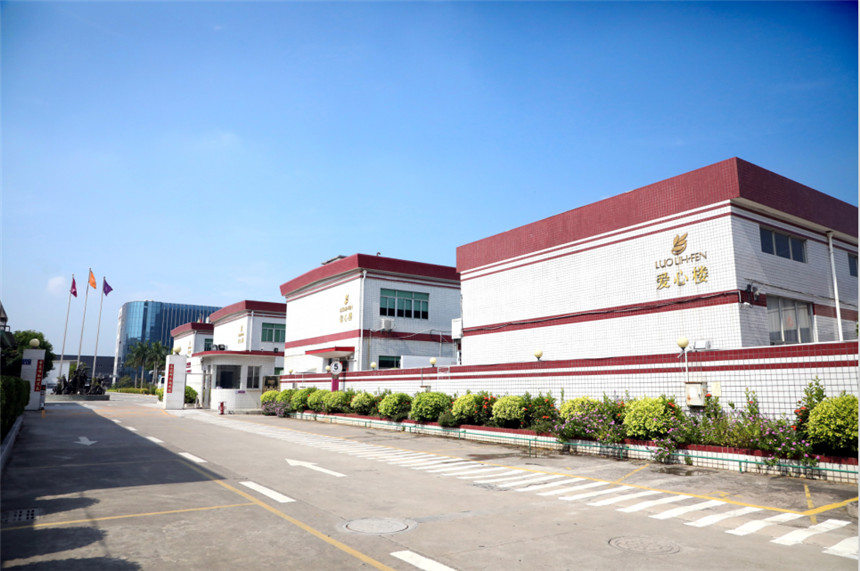 Luo Lih-Fen Group has been always dedicated to bringing you beauty. Since Ms. Luo Lih-Fen founded the 1st beauty salon in Taiwan in 1986, we have been continuously improving our professional ability, accumulating the energy of conveying beauty. Ms. Luo Lih-Fen, the founder, attaches great importance to the Greater China Region market. Therefore, in 2002, she established Luo Lih-Fen Group's production base in Xiamen, Fujian, China, namely, Xiamen Juwenlee Cosmetics Co., Ltd. and then relocated it to Zhangzhou Taiwanese Investment Zone in 2006.
We have been continuously cooperating with academic and scientific research units at home and abroad for more than 30 years. After launching GLINGLUO series, we successively launched SUNLILY and DRAISE series. By the establishment of a subsidiary in 2019, we launched QIECOME, a health care brand, and Easybio, a new retail brand. We not only offer high-quality products but also inherit the beauty culture of the founder Ms. Luo Lih-Fen and the craftsmanship of the beauty service industry and the way of successful management. Meanwhile, we can provide the new generations who are willing to devote themselves to the beauty industry, beauticians who are eager to enhance their professional skills or managers who look forward to promoting their salons' operation and management with appropriate course & consulting services together with systematic training and consulting services of our institute's system. As a missionary of beauty, we are growing vigorously to be an enterprise integrating scientific research, production, sale, consultation, etc. in promoting our beauty business.
The Group also takes actions to promote the inner beauty and kindness by getting involved in public benefit activities to pay back to the society, constantly offering support and help to public welfare activities via Xiamen Women and Children's Development Foundation and other institutions, as well as single mothers and dropout students.
Luo Lih-Fen Group will continue to do one thing, that is, adhering to professional ability to promote beauty. We will adhere to our original intention and continue to carry forward the beauty culture in the future, dedicated to bringing beauty to Chinese ladies around the world, forever contributing to the beauty of mankind!
Juwenlee (Fujian) Cosmetics Co., Ltd., formerly known as Xiamen Juwenlee Cosmetics Co., Ltd., was established in Xiamen in 2002. Due to development needs, it moved to the Taiwanese Investment Zone in Zhangzhou, Fujian Province in 2006. It is a wholly-owned subsidiary of Luo Lih-Fen Group under Luo Lih-Fen Holding Co., Ltd.. The company has passed ISO22716 Good Manufacturing Practices for Cosmetics, ISO14001 Environmental Management System, ISO45001 Occupational Health and Safety Management System, ISO9001 Quality Management System, Intellectual Property Management System, Informatization and Industrialization Integrated Management System, and Level 3 Certification of Safety Production Standardization. Meanwhile, the company continues to promote Information Security Management System, Energy Management System and National Safety Production Standardization Level 2. Now it has its own brands such as LUO LIH-FEN, Greenruo (葛林若), Saint Dinaire (圣迪妮尔), Dionsi (黛昂丝), Moclef (莫克丽肤), Qiyikang (绮易康) and Easybio with more than 300 corresponding trademarks registered.
The company focuses on technological innovation. So far, it has enjoyed 9 major formula technologies, 11 invention patents, 18 appearance patents and 11 utility model patents, with its participation in the formulation of 4 national standards. On the basis of independent R&D and innovation, we has promoted the school-enterprise cooperation of production, education and research, hired industry experts and scholars establishing an expert advisory committee to guide and promote the company's technological innovation and development. In 2018, it established a "Professional-line Cosmetics Efficacy Evaluation Joint Laboratory" with China Research Institute of Daily Chemical Industry. The Technology Center Testing Laboratory was established in accordance with the ISO/IEC 17025 standard, and passed the national CNAS certification in November 2019. In 2020, it joins hands with the Translational Medicine Center of the School of Pharmaceutical Sciences of Xiamen University (SPSXMU), combining the precision skin care capabilities of Luo Lih-Fen and the research results of the Translational Medicine Center of SPSXMU to create a <Stem Cell Microecology Joint Research Platform>.
In recent years, the company has enjoyed a stable development and paid taxes with integrity, continuously winning the titles of "Large Taxpayer" and "Hero of Economic Construction" in the Taiwanese Investment Zone for manyyears. In addition, the company has also been recognized as "Fujian Provincial High-growth Enterprise in the Field of Industry and Information Technology", "Fujian Provincial Small and Medium-sized Enterprise (Professionalization) with Specialization, Refinement, Characteristic and Novelty", "Fujian Provincial Small Giant in Science and Technology", " Fujian Provincial Enterprise Technology Center", "Fujian Provincial High-tech Enterprise", "National High-tech Enterprise", "Fujian Provincial May 1st Labor Award" and other honors.
Luo Lih-Fen Holding Co., Ltd. was listed on the Taiwan Stock Exchange in 2018. The company will continue to work hard to improve the quality of operation and management, striving for quality awards in Zhangzhou City, Fujian Province and China. With continual advancement in management and technology innovation and talent cultivation, we will enhance the company's competence, and further improve brand value and achieve sustainable business operations!